What You Need to Know for the Smoke Alarm Project
When and Where Are We Serving?
---
April 25, 2019 8:30 am to 4:00 pm (ending time subject to change) We will be serving a neighborhood in Des Moines. More details to come. We will be meeting at the Polk County Emergency Management Office (1907 Carpenter) for registration, to get supplies, and to receive team assignments.
Carpooling is recommended. Volunteers will be pre-assigned a reporting time so we can stagger when people arrive and when they go out to the neighborhoods. For example, volunteers with no experience will be assigned to come at 8:30 for training. Others may be assigned to arrive at 9:00, 9:30, 10:00, or 10:30. To honor your time, we will dispense with lunch and ask that volunteers complete their assigned route before returning to the staging area for check out. Volunteers should expect to be finished within 4 hours or less of receiving your assigned route.
---
What Kind of Training Will We Have?
---
Many of you have already served on a Red Cross Smoke Alarm Project. If so, you are trained. Otherwise, please watch this video from our 2018 project in Des Moines. Note that safety glasses mentioned here will not be provided, but the video provides other very useful information. In addition, you can view more in-depth training videos based on the task you might be performing. It would be good for everyone to see Module 1. Then you call view a list of other Modules to cover. So start with this video and move to the others as you feel is best. You can also review the Quick Reference Guide found on the registration page. Volunteers will also receive an orientation on the day of the project, and online materials will be available on this site at a later time.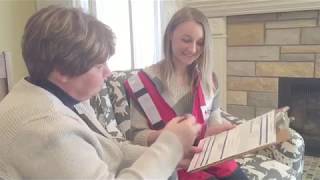 ---
How Do We Check Out?
---
Once you have visited every house on your map, regardless of whether you were able to get in, notify your division leader. He or she may have a short list of homes where residents have alerady requested an alarm installation by appointment. You may be given one or two of those assignments. Once you have completed that work, you should return to the staging area.
To check out, the installer returns any borrowed tools. The documenter finalizes paperwork and turns in the papers and all left over supplies, accounting for all items. Please do not leave if your assigned area has not been completely canvassed.
---
Why Are We Doing This Again?
---
The Red Cross installs smoke alarms all year long, often in very small campaigns you don't hear about. They have installed hundreds of thousands of alarms and saved hundreds of lives.
As a Church, we participate with this project somewhere pretty much every year. The Red Cross relies on us for these large campaigns, and it has been our privilege to participate in every stake in the mission over the past few years. Last year, we participated in Cedar Rapids. This year, we have two projects, one in Des Mones and one in Davenport. In 2018, our project in Dubuque helped save the lives of several people. See the video the Red Cross made about that experience. We aren't mentioned, as this was a Red Cross promotional video, but the project was the direct result of our participation. It doesn't matter who gets credit. It does matter that our service directly benefits our fellow citizens.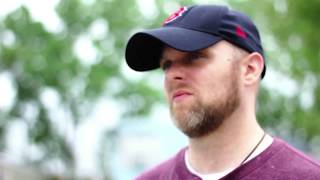 ---
If the weather forecast calls for rain, what do we do?
---
Rain can make the work less pleasant, but it can also improve our chances of finding people home. That improves our chance to help save lives.
This project will happen, rain or shine. The fire department can call it off for severe weather, but that has not happened since we began these projects in 2014. The Red Cross might provide "booties" for going into homes. If so, your supply bucket will have 3-4 pairs. Only put them on once inside a home; put them over your shoes; remove them before exiting so they will be clean and dry the next time you enter a home. We strongly encourage you to wear layers and bring a jacket to help you be prepared for the weather. Please do not let the weather scare you away. Fire officials, Red Cross staff and volunteers, city officials, media representatives, and businesses have invested an incredible amount of time and money into this project. Our job is to bring all of that hard work to a successful conclusion. Rescheduling is really not an option. Dress for the weather and come to serve!
---
What Should We Expect When We Check-In?
---
These details will be updated as planning continues. But the tentative plan includes: 1. Volunteers will check-in at the Polk County Emergency Management Office and receive a team assignment. Teams will likely include both youth and adults, and so we will ask that adults be flexible about their assignments. 2. Volunteers will meet with a division leader who will review the map of the neighborhood. 3. Volunteers will receive supplies and can check out tools. You may also bring your own tools (3-step ladder, cordless drill or power screwdriver, pencil). 4. Volunteers will receive a brief orientation covering safety, paperwork, and important guidelines on entering homes and installing alarms and/or teaching fire safety. Light refreshments will be available at check-in.
---
What Roles Do We Have on the 3-person Team?
---
Each team has an installer, a documenter, and an educator. INSTALLERS need to use a cordless drill to seat the housing for the alarm and properly install it. You will need to climb a step ladder and be able to properly position the alarm. DO NOT VOLUNTEER FOR THIS JOB IF YOU HAVE NO EXPERIENCE INSTALLING ALARMS. A DOCUMENTER keeps the paperwork straight, keeps track of supplies, holds the ladder if needed, hands supplies to the installer, asks residents to sign waivers for the work, and keeps track of your progress. The Documenter also submits all paperwork at the end, and this is vital because the Red Cross must account for all supplies. The EDUCATOR will teach residents about fire safety, help them design a fire escape plan using the materials provided by the Red Cross, and provide other emergency preparedness materials to residents. Be sure to read these materials before you go into a neighborhood so you can effectively share the information. This education component is often the difference between someone getting out of a home after a fire starts. If a resident is hesitant to let your team into the home to install an alarm, provide the education piece on the porch or at the doorstep at the very least.
---
What Should We Bring?
---
Tools: If you have a cordless hand drill and a 3-foot step ladder, bring them. If you don't have these tools, there will be a number of drills available to use. No need to buy anything, unless this is your excuse to do so. Warm Clothing if the weather requires it Helpful: pencil (for marking drill holes, safety glasses (for installer), measuring tape.
---
How Do We Know Where To Go?
---
Every three-person installation team will be part of a multi-team division.
Each division will have a division leader who will have maps showing the assigned area.
Each team will be given a map with a smaller area defined. Your team will knock on all the doors in that area. If you run out of homes to visit, check with your division leader to be reassigned to help another area. When you are finished with your area, inform your division leader you are ready to go to lunch.
---
When and What is Lunch?
---
In past projects, the Red Cross has gone to great lengths to provide lunch to our volunteers. However, feedback has indicated that most volunteers would rather just finish working as soon as possible and go home. To honor that desire, we have working to create a schedule that will allow volunteers to go out into the field just one time and return after completing their assignments to check out and go home. Lunch will therefore not be served because it adds too much time to your day. Light breakfast snacks will be available, and other snacks will be available from Red Cross vehicles throughout the day.
---
How Many Volunteers Do We Need?
---
We need 170+ volunteers to serve on 54 teams, which means we also need 54 of you to be willing to be background checked as team leads. We also need 50 Spanish-speaking volunteers if at all possible. Youth may serve with parents on an installation team (age 14-15), with parental permission (16-17), or at the staging area (a few 12-13 year olds). There will be data entry to do as volunteers return from the neighborhoods. We may need youth volunteers and families to help canvass the neighborhoods a week in advance. More details to follow.
---
Do we need to be background checked to enter homes?
---
One member of each installation team will need to be background checked by the Red Cross to satisfy their liability rules. That person needs to be an adult over 18. If you have been background checked before for this project, you will still likely need to complete a check again, since previous checks only last one year. We appreciate your willingness to comply with this requirement. We have not been able to have it waived.
---
---